As we approach the holiday shopping season a plethora of new product has hit the stores. 5-packs, 9-packs with new multi-pack cars,  C cases, Retro, and Cool Classics. We can look forward to a busy collecting year ahead of us. With all that happening the Hot Wheels Newsletter gives you our pick of the "C" Mix.

1) #29 ALFA ROMEO 8C COMPETIZIONE – This is one looks like a fun car to drive. We do prefer the clear window version over the tinted window.
2) #30 1990 HONDA CIVIC EF – A friend of mine had one of these and it was a blast cruising around the winter streets of Chicago.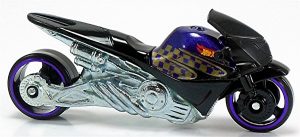 3) #130 Street Noz – One of our favorite motorcycles in the Mattel assortment. This one in black with the purple rims looks sick.
4) #132 Chevy Silverado – We like the grabber blue color and the tribal flames on the version.
5) #245 '70 CHEVELLE SS WAGON – Station wagons seem to be more popular now with collectors then they were in the 70's. This one looks good in mf white and Hurst logos.