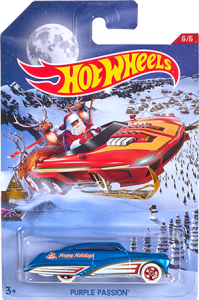 Holiday Hot Wheels at Walmart!
Happy holidays the Hot Wheels way with these cars with festive decorations will be available at Walmart in November. They're great stocking stuffers!
The packaging features Santa driving a hi-power snowmobile style sled with reindeers riding in the back. This series also includes the very popular Happy New Year 2017 Carbonator. Check them out sometime in November!
Checklist:
#1 Monster Dairy Delivery
#2 Saber (Eagle Massa)
#3 Scorcher
#4 Bedlam
#5 Purple Passion
Carbonator (Happy New Year 2017!)