With the release of The Amazing Spider-Man 2 movie, Hot Wheels made an 8-car series of Spider-Man themed cars exclusive to Walmart along with a series of track-sets, which can be found at other stores.

The first track set is the Web Swing Drop-Out track set The set includes an exclusive black Venom Covelight  The set is a track clamp style design  to race Venom over a ramp, pass Spiderman's swinging web trap and try not to get caught.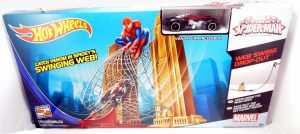 The second tack set is the Amazing Spider-Man Spider Loop Speedway track set. This track is a clamp-style design to speed down the mega drop to a  ramp that opens and closes for a different outcome; get caught in the web or escape through the loop.   Five cars are included in this set; Retro-Active, HW Pursuit, Dieselboy, Sling Shot and Vandetta.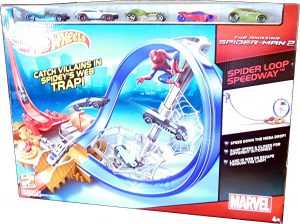 The third track set found was is the Speed Circuit Showdown – Spider-Man vs. Electro. At first glance the Retro-Active appear the same as the last set but this one comes with clear pr5 with blue chrome lip.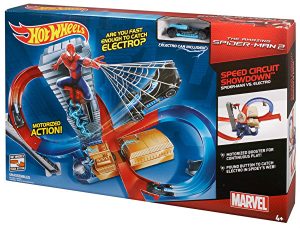 Three blister pack cars different from the Walmart set were found in Europe. They are the same 3 cars included in the Spider Loop Speedway. But these have different BP artwork. These might be difficult to find do to the fact they might not be available in the US.


Good Luck on your spidey hunt!