When: Saturday, 2/18 at 9 a.m. local times
Where: U.S. Kmart Stores*
Info:  Click here to find a location.
The first Kmart Collectors Day release is the Datsun Bluebird 510. Get one when you buy 20 Hot Wheels cars at Kmart or Kmart.com from 2/12/17 to 3/31/17.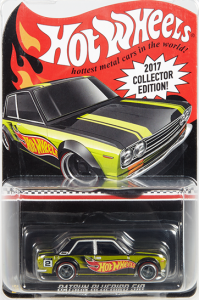 Specs:
Body Color: Spectraflame yellow
Deco: Hot Wheels logo on sides, black stripes on top and sides
Body type: Metal
Wheels: Real Riders four-spoke wheels w/ red line tampo
Base: Full-metal, zinc-plated chassis
Window Color: Light smoke-tinted
Interior Color: Black
Buy your 20 cars at the Kmart Collector Day event! 2/18/2017. The cases will include 4 special colors models and First-To-Market Hot Wheels releases. you can order special cases at Kmart.com for the event online starting on 2/12/17.
For full details follow the Official Rules and follow the instructions.
Special Colors
'55 Chevy – HW Flames (Green)
Cool-One – HW Art Cars (Yellow)
Custom '56 Ford Truck – HW Hot Trucks (Blue)
Dodge Viper SRT10 ACR – Nightburnerz (Black)
First-to-Market
BMW M4 – Factory Fresh (Blue)
Chevy Silverado – HW Hot Trucks (Black)
Lamborghini Countach – Tooned (Red)