The next Kmart Collector's Day which will be held on November 4, 2017 at 9AM (local time).
Order Cases online
Kmart Collector's Day, Color Exclusives for 11/04/2017:

'90 Honda Civic EF (2017 Then & Now) … Light Blue
Baja Hauler (2017 HW Hot Trucks) … Yellow
Formula Flashback (2017 Legends of Speed) … Red
Surf Crate (2017 Surf's Up) … Green
First to Market
This K-Day will be held in conjunction with the last mail-in promotion for 2017 — the '56 Chevy Convertible.
The '56 Chevy Convertible is our last mail-in HW Collector Edition for 2017. Buy 20 Hot Wheels cars at Kmart stores or Kmart.com from 10/29/17 to 12/31/17 and it's yours!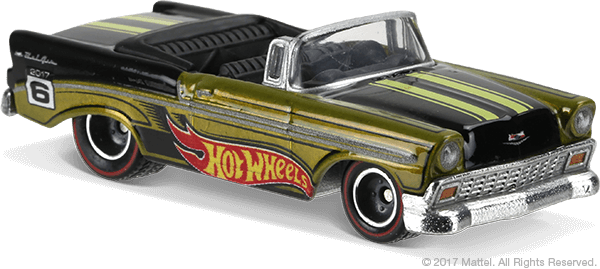 SPECS:
Body Color: Black and Spectraflame yellow
Deco: Hot Wheels logo and "6" on sides
Body type: ZAMAC
Wheels: Real Riders deep-dish wheels w/ red stripe tampo
Base: ZAMAC
Window Color: Clear
Interior Color: Black