This is information from a pamphlet that Target corporate sends to the individual stores on how to prepare for the collector event. Here's the interesting information:
– Saturday June 16 10am to noon -This is a 50th anniversary event -will cater to both kids and collectors
– there will be 4 stations around the store
– station 1 will be at the front of the store where there will be a dump bin and an employee handing out a free car to each kid and event map to guests and telling them about the event
– station 2 will be in toys: kids will be given a sticker sheet to decorate their free hot wheels
– station 3 also in toys: kids will play a guessing game of which decade a car is from
– station 4 also in toys: kids will be able to race their free car on a track
For collectors:
The collector event starts at 11am and collectors will line up at electronics where they will have the opportunity to purchase "a limited number of never-before-seen" hot wheels, there will be 3 or 4 cases of cars available to collectors. Along with the dump bin at front of store and a large roller display of cars which looks like a 4 sided wall hanging display. Check your store for details.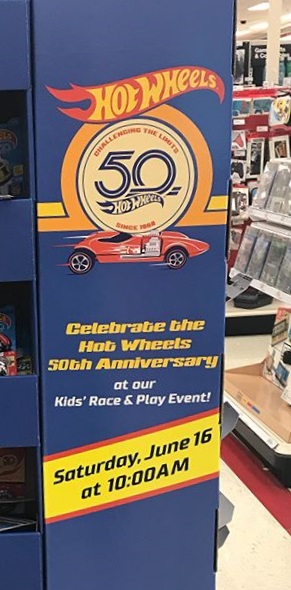 The Collectors event will be June 16th. at 11AM (local time). I would check your store to make sure.
There will be a promotional mail-in vehicle.
The case will be special mix of "L" cases
Included are
 Fairlady 2000
Custom '53 Chevy
'15 Dodge Challenger SRT)
3 first-to-market cars
Lamborghini Huracán LP620-2 Super Trofeo  HW Exotics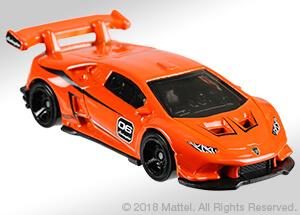 '15 Ford Mustang GT ConvertibleMuscle Mania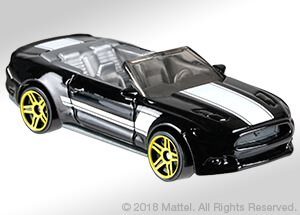 '70 Pontiac Firebird  50th Race Team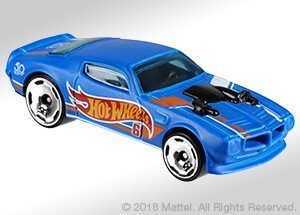 Pictures courtesy of Mattel.
Similar to Kmart Days
Collectors will have 5 minutes to select 5 cars from the cases, before more numbers are drawn,